Aquí, el poema y sus versiones en inglés y francés
Here, the poem and its versions in English and French
Ici, le poème et ses versions en anglais et en français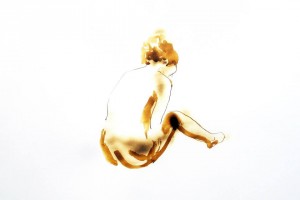 REFLEXIONES TROPICALES
(Breve diálogo entre mujer y niña)
Mujer
I.
Se busca la cabeza
de una niña
por toda la ciudad.
Tierra y lombrices en mi mano.
Esa será mi tumba,
o el mar,
o el río.
O quizá mi cabeza también ruede y se pierda
lejos de mi cuerpo.
II.
Las voces de búho en mi cabeza
no me dejan dormir.
La Osa Mayor se ríe de mi trillada reflexión.
Pequeña, como yo.
Aguardo el golpe en la puerta.
Pero no aguardo tanto
y la abro.
III.
La lluvia distrae a la grieta.
El aire cargado de agua me hace niña.
Soy cuerpo y mente vaciados.
Soy flor que devora insectos.
Tú vibras en la hoja
y yo te miro.
Y soy la hoja.
Niña
IV.
Piedras
raíces
culebras
compactas en la tierra.
Caigo
en el olor a óxido
y no llego nunca al fondo.
Será que el fondo no existe.
Será que es ese el destino humano:
no terminar de caer.
Mujer
V.
Caigo en una casa
dónde suena un reloj de péndulo
y una niña a oscuras se sienta en el suelo
a escuchar el rumor de los fantasmas
que conversan en su corazón.
VI.
Y caigo en un charco sucio.
Es la bilis de un hombre lejano
que la ama tanto que la insulta,
pinta una berenjena en su piel.
Nado fuera del charco
y se me adhiere el aire nuevo, florido.
No le escupo a ese hombre.
Suficiente con decir basta y salir.
VII.
Suficiente con volver sin odio
y amar de nuevo:
un jaguar tatuado en un hombro.
Mi amor, jaguar, mi vida, fuiste.
Fuiste.
Fuiste.
Dolía pensar que ya no eras felino libre y feroz.
En el hombro de ese noble hombre eras una estampa, inmóvil.
Yo necesitaba el aire florido pero también el andar.
Y emprendí de nuevo el camino.
Niña
VIII.
Orquídea sedienta de fruto.
Nunca pensé que la nieve fuera algo tan dulce
nieve reflejo de sol y pinos
manos astilladas de leña
sabor a madera y fuego.
Cierro los ojos,
existes,
y entonces caminamos entre latidos de piedras.
Mujer
IX.
La casa huele a guayabas.
El perfume de la fruta distorsiona la luz.
Me aferro a esa carne rosada,
a sus semillas diminutas,
las saboreo con olfato y extrañamiento.
Las guayabas maduran: me rodea una explosión de olores coloridos.
Mi piel comienza a ser fruta de trópico.
Otra vez.
Niña
X.
El duelo con el musgo apretado de mis labios.
Musgo viejo y heredado.
El río murmulla orquídeas.
XI.
Acércate a mi lecho de arena.
Irrígalo.
Si se seca
me quedaré sin mar
y tú perderás
el color tierno de su coral.
Si no te acercas
sola quedará la sinfonía
de mi aullido contenido.
Mujer
XII.
Te descubrí en los frutos de mi manojo,
en los gritos de perico que fertilizan mi vientre.
Imagen de ti fragmentada
añicos
vaho
hasta que descubrí que te llevo en mi constelación tropical.
Mujer y niña
XIII.
Soy piedra.
Piedra de río.
Lisa, ovalada.
Dura.
Un cofre de silencio.
No estoy muerta.
Los átomos giran dentro de mí.
Y siento la corriente del río
que mueve la tierra
y salgo rodando hacia el mar.
Somos música:
agua, piedras, remos,
musgo, huesos, lluvia.
Su beso de agua
sobre mi espalda dura
es segundo eterno de arena y sal.
Soy de río y soy de mar.
Soy espíritu melodioso e imperfecto.
Cíclope con tercer ojo.
Desafino el canto de la higiénica maldad.
Tania Pleitez Vela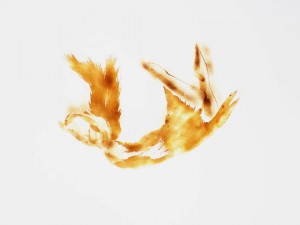 TROPICAL REFLECTIONS
(Brief dialogue between woman and girl)
Woman
I.
They seek the head
of a girl
throughout the city.
Earth and worms in my hand.
This will be my grave,
or the sea,
or the river.
Or perhaps my head will also roll mislaid
far from my body.
II.
Owl screeches in my head
disturb my sleep.
The Great Bear ridicules my beaten reflection.
Minor, like me.
I wait for the knock
but cannot wait long,
I open the door.
III.
Rain distracts the crack.
The oppressive air turns me childlike.
I am empty body and mind.
I am flower that devours insects.
You quiver on the leaf
and I see you.
And I am the leaf.
Girl
IV.
Stones
roots
serpents
compact in the earth.
I fall
into rusting air
and never reach the end.
As if the end does not exist.
As if this is human destiny:
to never stop falling.
Woman
V.
I fall into a house
where a grandfather clock sounds
and a girl in the dark sits on the floor
to hear the whisperings of ghosts
that converse in her heart.
VI.
I fall again into a filthy pool,
the bile of a remote man
who loves her so much he insults her,
paints an aubergine on her skin.
I crawl out of the pool,
the pollen-rich air covers me.
I do not spit at this man.
It is sufficient to say enough and leave.
VII.
Sufficient to return without hate
and love again:
a jaguar tattooed on a shoulder.
You were my love, jaguar, my life.
You were.
You were.
It hurt to think you were no longer a feline, unchained and fierce,
but a stamp on this noble man's shoulder, immobile.
I needed the pollen-rich air but also to walk.
And I set out once again along the path.
Girl
VIII.
Orchid craving fruit.
I never knew snow could be so sweet
snow reflecting sun and pines
hands splintered by wood
tasting of timber and fire.
I close my eyes,
you exist,
we walk among pulsing stones.
Woman
IX.
The house smells of guava.
Fruit scent distorts the light.
I grasp for the pink flesh,
reach for the tiny seeds,
savour them through smell and estrangement.
Guava fruit ripen: explosions of fragrant colour surround me.
My skin is becoming fruit of the tropics.
Again.
Girl
X.
Duelling with the moss pressed against my lips.
Old inherited moss.
River murmuring orchids.
XI.
Come closer to my bed of sand.
Water it.
For if it dries out
I will be left without sea
and you will lose
the soft colour of coral.
If you do not come closer
all that will remain is the symphony
of my withheld howl.
Woman
XII.
I found you in my bundle of fruit,
in the parakeet cries that fertilise my belly.
Your image fragmented
shattered
exhaled
until I discovered I carry you in my tropical constellation.
Woman and girl
XIII.
I am stone.
River stone.
Smooth, oval.
Hard.
A repository of silence.
I am not dead.
Atoms whirl within me.
And I feel the river's flow
moving the earth
and I go coursing towards the sea.
We are music:
water, stones, oars,
moss, bones, rain.
This fluid kiss
over my hardened back
a never-ending second of sand and salt.
I am of river and I am of sea.
I am spirit, harmonious and imperfect.
A cyclops with third eye.
Out of tune with the hymn of hygienic evil.
Tania Pleitez Vela
Translation by Jessica Rainey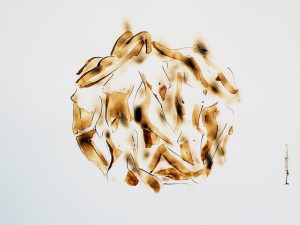 RÉFLEXIONS TROPICALES
(Bref dialogue entre Femme et Petite fille)
Femme
I.
On cherche la tête
d'une petite fille
partout dans la ville.
Terre et lombrics dans ma main.
Ce sera ma tombe.
Ou la mer,
ou la rivière.
Ou peut-être aussi ma tête roule et se perd
loin de mon corps.
II.
Les voix du hibou dans ma tête
ne me laissent pas dormir.
La Grande Ourse se moque de ma pensée triviale.
Petite, comme moi.
J'attends qu'on frappe à la porte.
Mais je n'attends pas longtemps
et je l'ouvre.
III.
La pluie distrait la fissure.
L'air chargé d'eau me transmue en petite fille.
Je suis corps et esprit évidés.
Je suis fleur qui dévore les insectes.
Tu vibres sur la feuille
et je te vois.
Et je suis la feuille.
Petite fille
IV.
Pierres
racines
couleuvres
compactes dans la terre.
Je tombe
dans l'odeur de rouille
et je n'arrive jamais au fond.
Comme si le fond n'existait pas.
Comme si c'était ça le destin humain :
Ne pas cesser de tomber.
Femme
V.
Je tombe dans une maison
où sonne une pendule
et une petite fille dans l'obscurité s'assied à terre
pour écouter les rumeurs de fantômes
qui conversent dans son cœur.
VI.
Et je tombe dans une mare d'eau impure.
C'est la bile d'un homme distant
qui l'aime tellement qu'il l'insulte,
qu'il peint une aubergine sur sa peau.
Je nage hors de la mare
et l'air nouveau, floral, m'enrobe.
Je ne crache pas sur cet homme.
Autant dire basta et partir.
VII.
Autant revenir sans haine
et aimer à nouveau :
un jaguar tatoué sur une épaule.
Mon amour, jaguar, ma vie, tu l'étais.
Tu l'étais.
Tu l'étais.
Ça faisait mal de penser que tu n'étais plus un félin libre et féroce.
Sur l'épaule de cette noble personne, tu étais une image, immobile.
Moi j'avais besoin de l'air floral mais aussi de marcher.
Et j'ai à nouveau repris le chemin.
Petite fille
VIII.
Orchidée assoiffée de fruit.
Jamais je n'ai pensé que la neige puisse être une chose si douce
neige reflet de soleil et de pins
mains fendues par le bois
saveur de madrier et de feu.
Je ferme les yeux,
tu existes,
et nous marchons alors entre les battements de pierres.
Femme
IX.
La maison sent la goyave.
Le parfum du fruit dénature la lumière.
Je m'accroche à cette chair rose,
à ses petites graines,
je les savoure avec le nez et l'éloignement.
Les goyaves mûrissent: une explosion d'odeurs colorées m'envahit.
Ma peau commence à devenir fruit tropical.
Encore.
Petite fille
X.
Le duel avec la mousse comprimée de mes lèvres.
Mousse végétale, vieille et héritée.
La rivière murmure des orchidées.
XI.
Approche-toi de mon lit de sable.
Il faut l'irriguer.
S'il se dessèche
je me retrouverai sans mer
et tu perdras
la douce couleur de son corail.
Si tu ne t'approches pas
il n'y aura plus que la symphonie
de ma plainte retenue.
Femme
XII.
Je t'ai découvert dans les fruits de mon balluchon,
dans les cris de perruche qui fertilisent mon ventre.
Image de toi fragmentée
éclats
vapeur
jusqu'à ce que je m'aperçoive que je te mène dans ma constellation tropicale.
Femme et Petite fille
XIII.
Je suis une pierre.
Pierre de rivière.
Lisse, ovale.
Dure.
Un coffre de silence.
Je ne suis pas morte.
Les atomes s'agitent en moi.
Et je sens le courant de la rivière
qui anime la terre
et je sors en roulant vers la mer.
Nous sommes musique :
eau, pierres, pagaies,
mousse, os, pluie.
Son baiser d'eau
sur mon dos ferme
est une éternelle seconde de sable et de sel.
Je suis de rivière et je suis de mer.
Je suis esprit mélodieux et imparfait.
Cyclope au troisième œil.
Je chante faux, la chanson de l'hygiénique noirceur.
Tania Pleitez Vela
Traduit par Claire Basarich en collaboration avec Jean-Michel Choquet